About ScreenwritingCommunity.net
Services to help screenwriters succeed
ScreenwritingCommunity.net was created by Bill Donovan, who saw a need to connect aspiring screenwriters with the services you need to succeed. ScreenwritingCommunity.net sells Bill's screenwriting help books and screenplay and teleplay proofreading and notes service, and gives other providers of screenwriting services and products ways to connect with screenwriters. We also help screenwriters with screenplay format, screenplay proofreading and story notes.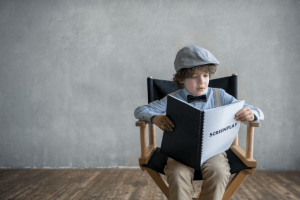 MFA, Filmmaking and Screenwriting, University of Southern California
Bill is the former editor and publisher of Creative Screenwriting Magazine and former executive producer of the Screenwriting Expo, and the former manager of two annual screenplay contests, a scene-writing contest, and a logline contest, as well as producer of 10 educational DVDs for screenwriters.
Proofreading Credentials And Experience…
● More than 100 screenplays proofread with notes
● Screenplay contest judge (three contests)
● Screenplay contest executive (11 screenplay contests, 5 scene-writing contests, two logline contests)
● Two of his own screenplays won three first prizes in contests
● Former Editor of Creative Screenwriting Magazine
● Author of four books for screenwriters to date
● USC Master of Fine Arts, Screenwriting and Filmmaking
● Newspaper copy desk chief, Morristown, N.J., Daily Record
● Copy editor at the Associated Press
● Copy editor at daily newspaper, The Record, Hackensack, N.J.
● Copy editor for several business-to-business trade publications
● 11,200+ published pages and screenplays edited/proofread
● Writer or editor of news stories that won five national journalism awards.
Keywords:

Screenplay format, screenplay proofreading and story notes